WUXI KYOSEI succeeded to develop push-pull cable in 2008 and started to put to practical use.
At the same time, WUXI KYOSEI set up the new dedicated producing line of push-pull cable in the factory, and this enabled the mass producing of high-quality cables for cars and other industrial machines with the utmost efficiency.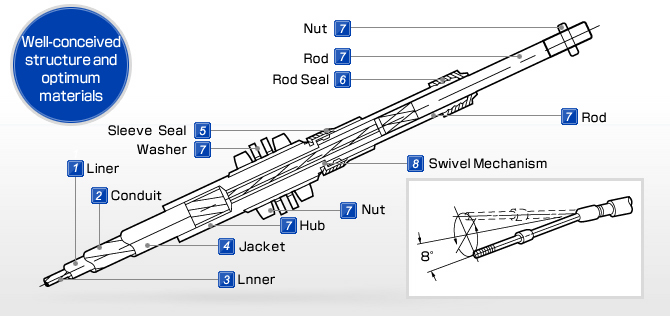 High-density polyethylene liner enables cable to work push-pull movement smoothly. It also has the feature of high specific stiffness, resistance to chemicals, lubricity and abrasion quality, so that the cable can keep smooth feeling and durability under the environment from -50

to 100


Conduit type outer casing consists of many hard steel wires stranded around the high-density polyethylene liner by long pitch. With keeping enough flexibility but also stiffness toward compressive load, this outer casing can manage to achieve excellent stroke efficiency without elastic loss.

In concidering the feature of push-pull cable, we adopted less elastic materials toward tensile load and compressive load. This enabled capable transmission efficiency.

Excellent weather resistance, resistance to chemicals, and abrasion quality shut out the invasion by a foreign substance. The jacket protects conduit outer casing with the best use of stiffness, and transmits push-pull force properly.

Sleeve seal with high abrasion quality and flexibility helps to protect joint parts perfectly, and also holds high-levels of dust resistance and waterproof property.

As is the case with sleeve seal, rod seal is also a protecting seal which has the characteristic of wiper structure. As the push-pull cable operated, rod seal wipe away the dust and water attached over the rod.

Hub, sleeve, rod, nut, washer and other parts are all well plated by high corrosion-resistant material.

Rod and sleeve assembled to both end of push-pull cable make the swivel angular movement up to 8°. This angular movement contributes to round and longitudinal movement of joint parts of rod and control arm smoothly and nicely.

Kyosei's push-pull cable lines 4 types of standard series depending on the cable's requested load from 5KG to 100KG. Therefore we can meet a wide range of customer's needs and intended purpose.
When it comes to in use of push-pull cable, we appreciate if customers could preliminarily confirm specifications or conditions such as maximum load, maximum stroke, bending angle, and bending numbers. However, in any event, please feel free to contact us. We are very glad to have your inquiries.
table 1- for reference Load capability and minimum bending radius of Standard Series
Series
Jacket
External Dia.
(mm)
Inner
External Dia.
(mm)
Minimum
Bending
Radius
Pressing Load (Max Kg)
Extrusion
Load
(Max Kg)
Input Side Stroke
25mm
50mm
75mm
100mm
125mm
20
6.5
1.8
50mm
10kg
5kg
30
8.0
2.3
100mm
25kg
25kg
20kg
15kg
40
10.0
3.5
150mm
50kg
50kg
40kg
30kg
20kg
60
13.0
3.5
200mm
90kg
90kg
80kg
70kg
50kg
90kg